The Drago II corn head is specifically designed and engineered to harvest today's genetics — to capture more yield with unsurpassed durability and ease of maintenance. Drago II is a product of Olimac — a global company, passionately dedicated to creating the highest-quality, best-performing corn heads in the industry.
Overview
AFTER ALL YOU DO TO GROW MORE CORN,
THIS IS HOW TO BRING MORE HOME.
THE HEART OF KERNEL CAPTURE TECHNOLOGY™
GETTING MORE OUT OF YOUR COMBINE STARTS WITH GETTING MORE IN.
AUTOMATIC SELF-ADJUSTING DECK PLATES
Low-maintenance, spring-loaded deck plate pistons constantly apply pressure to incoming stalks, automatically minimizing plate gap where yield loss can be significant.
INDEPENDENT ROW UNITS
Deck plate gaps, both in-row and row-to-row, are determined by the size of stalks running through them, compared to hydraulic systems that set the same plate gap for every row unit.
ANGLED CHAIN DESIGN
Gathering chains angle apart — front to back — to release stalks and avoid excessive trash from entering the combine.
POLY CHAIN GUIDES
Each gathering chain has five poly chain guides that extend the life of the chain and are reversible after one side has worn.
OVERLAPPING GATHERING CHAINS
Oversized idler sprockets, which reduce chain wear, are forward-placed, allowing overlapping chain fingers to grab and capture stalks for processing — a highly valued feature when harvesting downed corn.
AUTOMATIC SELF-ADJUSTING DECK PLATES
University research shows that a gap of only 1/8 inch between stalks and deck plates can cause measurable yield loss to occur.* And considering today's increasingly higher plant populations, the amount of plant material corn heads must process, and hybrids that dry down faster, the potential for yield loss increases, too. On every farm — at every harvest — the Drago Automatic Self-Adjusting Deck Plates prove their value in capturing more of the corn you've grown.
*Graeme Quick field research, Iowa State University.
SPRING-LOADED DECK PLATE PISTONS
The spring-loaded deck plate piston design is simple and requires little maintenance.
The heart of kernel capture technology™
THE LONGER THE KNIFE ROLLER, THE BETTER
The industry's longest knife rollers combine with a smaller diameter for added plant processing time. The extra time means roller tips can run slower, resulting in less ear bounce – less ear loss – without having to reduce combine speed. No other knife roller measures up to the performance of a Drago knife roller.
Walkthrough Video
ONE ON ONE WALKTHROUGH:
LONGER STALK ROLLER
Understanding Automatic Self-Adjusting Deck Plates.
RETURN
LONGER KNIFE ROLLERS
At 22.5 inches, the Drago GT features the longest knife rollers in the industry.
Slower Tip Speed
Having the longest knife roller with a smaller diameter reduces tip speed for less ear bounce, greater ear retention and reduced butt-shelling.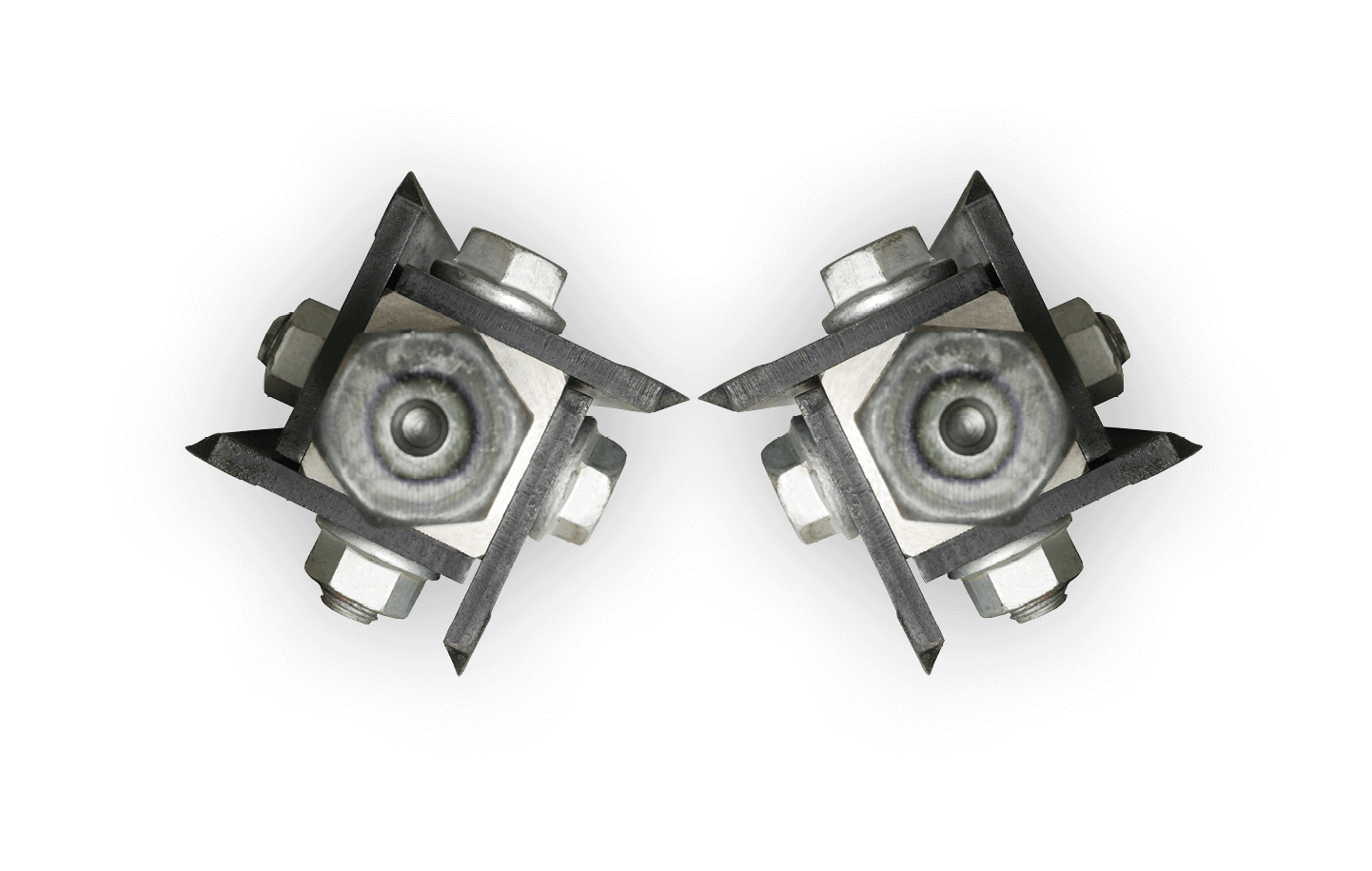 Reducing Ear Loss
A knife-to-knife design pinches, pulls and opens up — allowing plants to move farther back into the corn head before the ear is removed.
Nose Cone Bearings
Drago not only supports its knife rollers out front, but has two bearings and a grease bank built right into the nose cone itself. A dirt barrier is milled in to protect seals and bearings when tips are closer to the soil, as in downed-corn situations.
Knife Roller Supports
Drago builds bracket supports to keep knife rollers from spreading and breaking.
THE HEART OF KERNEL CAPTURE TECHNOLOGY™
LOWEST PROFILE ANGLE
The Drago II corn head features a working angle of 17-23 degrees — the flattest in the industry. The low angle allows ears to move up the row unit with ease and reduce ear loss out the front. This lower working angle allows the Drago II to work through downed corn more efficiently, too.
AGGRESSIVE FEEDING BLOCKS
This option can be simply added to the gathering chain guide rails to increase chain overlap and aggressiveness at the rear of the row unit to improve feeding in tough, trashy conditions.
SPRING-LOADED SNOUT- PRESSURE
This feature allows you to apply and adjust down pressure to your snouts, keeping your points under downed corn.
MICRO-ADJUSTABLE SNOUTS
Wrench-free knobs for both snout angle and spring pressure adjustments offer quick and easy micro-adjustments when you need it.
AGGRESSIVE OVERLAPPING GATHERING CHAINS
Drago gathering chains, which ride on oversized sprockets to reduce wear, are placed in front of knife rollers where overlapping chain fingers grab and capture stalks for processing. This feature is highly valued when harvesting downed corn.
ANGLED SEPERATION FOR LESS TRASH
Drago's gathering chains angle apart — front to back — so stalks are not broken off when being pulled down and avoiding excessive trash from entering the combine.
Walkthrough Video
ONE ON ONE WALKTHROUGH:
AGGRESSIVE GATHERING CHAINS
Walkthrough of the Drago row unit and how it can can harvest in a wide range of conditions.
RETURN
THE HEART OF KERNEL CAPTURE TECHNOLOGY™
CHOPPER PLACEMENT MAKES A DIFFERENCE FOR THOSE WHO PUT KERNEL CAPTURE FIRST.
The Drago II "Yield First" design features a rear-mounted chopping system that is unlike any other brand. The chopping system — placed well back on each row unit — allows ears to be harvested before the stalk is chopped. This is especially beneficial when plants have poor ear retention and when harvesting downed corn. The Drago difference isn't just that stalks get chopped, but when they are chopped.
EFFICIENT DESIGN
The Drago II's rear-mounted chopper system is more efficient because of the short drive train, and because it is directly driven from the main gearbox. Other corn heads with a forward-mounted chopping design require more gears, increasing horsepower consumption.
BALANCED BENEFITS WITH EASE OF MAINTENANCE
Drago's "Yield First" design provides an optimum balance of maximized harvesting and quality chopping in both optimal and tough conditions. Chopper maintenance is quite simple. Drago knives feature a tungsten carbide edge and are easily reversed.
ADD A CHOPPER AT ANY TIME
You have the option to add a chopper later without having to trade corn heads. Installation and removal of the gearbox is completed with just four bolts and a gasket, minimizing replacement downtime in the field.
Walkthrough Video
ONE ON ONE WALKTHROUGH:
DRAGO CHOPPING SYSTEM
Walkthrough of the chopping capabilities of the Drago II Corn Head
RETURN
Competitor
CONTROLLED CHOPPING
Controlled Chopping The Drago II chopping system is designed to deliver optimum chop quality without impacting yield. Unlike other brands, Drago chopping blades are placed behind knife rollers so they don't strike the plant until it is under control from the pinch received from the knife rollers. This is crucial, so no matter what conditions you face — from leaning to downed corn — yield is not sacrificed.
TURBO CHOP SHIELD
This option helps make chop residue finer by keeping it inside the shield longer. This is a simple and effective option that can be added later to any Drago corn head.
MAINTENANCE • PARTS • SERVICE
THE DRAGO II CORN HEAD ISN'T JUST BUILT TO WORK BETTER,
IT'S BUILT TO WORK LONGER.
When you build a corn head for harvest efficiency, you also know the importance of a timely harvest. We know there is never a good time for a corn head not to perform, which is why Drago corn heads are engineered for harvest dependability. When service is needed, having a complete and available supply of parts at Dragotec USA is a priority. We are so confident of Drago parts supply, in fact, that during harvest, if any part is not available from any of our North American distribution centers — including your local authorized Drago dealer, regional part hubs or our North American headquarters – the replacement part and shipping are free. Ask about our "We've Got Your Back" guarantee.


CONFIDENCE IN AVAILABLE PARTS AND KNOWLEDGEABLE SERVICE.
Along with parts availability, you'll find authorized Drago dealers are trained and fully knowledgeable in servicing the Drago II corn head. We also provide a full set of video instructions for those who desire to service and maintain the Drago corn head on their own.
ISO 9000 CERTIFIED
Every part is built for durability and tested for precision. That's every part, not every 10th part like other corn head brands.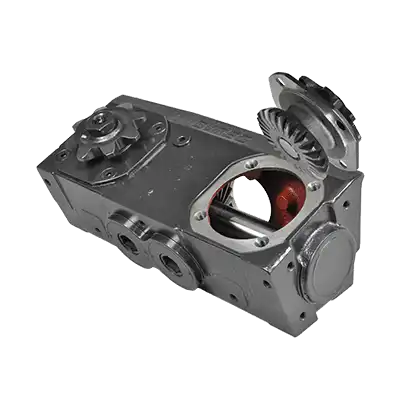 MAIN GEARBOX
Drago is recognized for its precision engineering and manufacturing. It's the only corn head with gearboxes milled so precisely that no shimming is necessary, providing easy removal and service.
SEIZE-FREE TENSIONER
Drago's gathering chain tensioner can be greased to act as a filler and seals out dirt and debris. Allowing the tensioner to work freely all season long increases the life of the gathering chain.
HEAVY-DUTY DRIVES
The HD Gearbox is standard for all 12-row and larger corn heads and available in all row spacings.
ONE ON ONE WALKTHROUGH:
OLIMAC QUALITY
Walkthrough of Olimac Quality Testing Lab how it achieves a higher level a quality than any other corn head on the planet.
GATHERING CHAIN DRIVE BEARINGS
Two bearings are stacked, forming a grease reservoir between them. Most competitors have only a single bushing or bearing.
EASY FLUID CHECK
Grease level is checked with a simple dipstick located and filled from the top.
BONNET LIFT
After the T-handle is pulled, a gas strut lifts and holds the bonnet and snout up and out of the way for easier access.